Recipe: Raisin cookies





Posted at 23 Apr 2007 10:16:41 PM
I posted a question
earlier today
asking whether anyone knew what cookies I was describing, and
elitenobody
wins at life for somehow immediately recognizing what I was talking about :D
These cookies are incredibly nostalgic for me, as my mom and my grandma also made them, and it's one of those recipes which is handwritten in a box on a shelf at my parents' house. These were 2am cookies; the kind for which you sneak out of bed and tiptoe downstairs in the middle of the night, hoping that you could find your way to the cookie tin in the dark, and that Mom hadn't used the squeeky lid (rearranging the cookies in the tin after sneaking one - maybe two! - in hopes that your snacking wouldn't be noticed in the morning). They're light and fluffy and full of plump raisin-y goodness - so simple and delicious, and very addicting.
Raisin Cookies
Plump raisins:
1 cup raisins (I would use smaller ones next time, for more even distribution)
1 cup water
1 tsp vanilla extract
Cookie dough:
1 cup shortening (I used 1/3 cup shortening, 2/3 cup butter)
1 1/2 cups white sugar
2 eggs
3 1/2 cups AP flour
1 tsp baking soda
1/2 tsp salt
2 tsp vanilla extract
More white sugar, for rolling
Add the water, vanilla and raisins to a small saucepan and gently bring to a boil. Remove the pan from the heat, and allow the raisins to soak while you make the rest of the dough.
Cream the butter/shortening and sugar together. When evenly creamed, beat in the eggs one at a time. Stir in the vanilla. Sift in the flour, soda and salt. Drain the raisins, and gently fold them in until evenly mixed.
Form largeish walnut-sized balls, being sure there's enough dough to hold the cookie together around the raisins. Roll in sugar to lightly coat the whole thing in sugar, and bake 2 inches apart on a [parchment paper-covered] cookie sheet. Bake for 8 to 10 minutes. Cookies should be firm, and just starting to brown. Makes between 30 and 35, depending on how big you make 'em.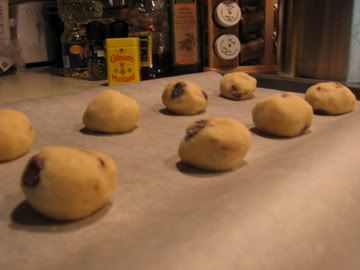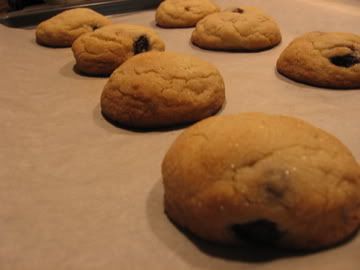 And the final look before devouring --
Those plump raisins are also a part of one of my favorite breakfasts - oatmeal with plump raisins (and LOTS of brown sugar!). It's absolutely divine on a chilly morning :)