I win at evenings





Posted at 17 Sep 2008 09:47:35 AM
Perfectly miserable day outside - rainy and as dismal as they come. Had my annual performance review this morning, though, and that went fairly well. Nobody's complained about me, and that's always something good to hear :)
I was browsing through the food blogs of
Kitchen Wench
,
La Mia Cucina
, and
Cream Puffs in Venice
during the last few hours at work while I was waiting for one of our vendors to acknowledge that their product rather spectacularly fails to correctly interpret JavaScript's string.length attribute (it thinks it's a function... sometimes). The moral of the story is that I came across
Lucullian Delights
, on the front page of which I saw a picture of a gorgeous penne pasta with red pepper pesto.
And I had to have it.
I went by Wegman's after work and picked up 3 beautiful red bell peppers and some fresh basil. Came home and ... well, here, have a recipe (such as mine are :) )
Penne Pasta with Red Bell Pepper Pesto
3 large red bell peppers
4 cloves of garlic
large handful of fresh basil
pine nuts
lemon juice
concentrated tomato paste
olive oil
Cut up the bell peppers into smallish pieces. Roughly chop the garlic. Add the peppers and garlic to a skillet, add some fresh-ground salt, pepper and red chili peppers, and sweat/saute in some olive oil until they are soft and just barely caramelized.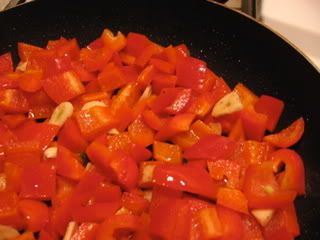 Spoon them into a food processor, add a few tbsp of pine nuts, a couple of tsp lemon juice, a tbsp or so of concentrated tomato paste and some more olive oil if needed for consistency. Add the fresh basil leaves, and process until the pesto is smooth.
Makes about 2 cups. Whatever you don't use immediately may be frozen for later.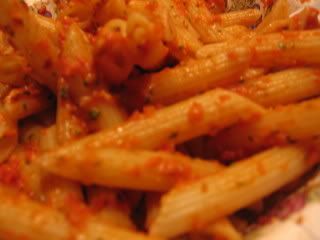 *glee*
To cap off my now-perfect evening, I stopped by Barnes & Noble on the way home and FINALLY picked up the Jeeves and Wooster DVDs. I am now sitting happily on the couch enjoying a fabulous dinner and british comedy enough to make me chortle with delight. :D